Last week I did something a little different: Sept 19th-22nd I was in San Francisco for Oracle OpenWorld 2010!
Halcyon was offered a kiosk in the Solaris Pavillion, and we jumped at the chance. Iain, Pegah and I flew down on Sunday and got to attend a couple of the partner forums, and take a look around the South and West Exhibit Halls as they were being set up (our kiosk wasn't built yet). OpenWorld takes over a block of downtown San Francisco each year, and Oracle branding and tents are all over the place. They said they expected 41000 attendees this year, the biggest ever, since they also rolled the JavaOne event into this one.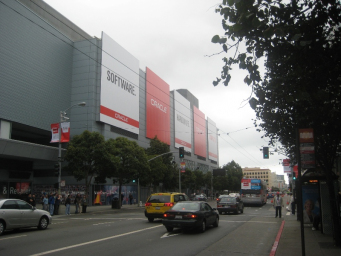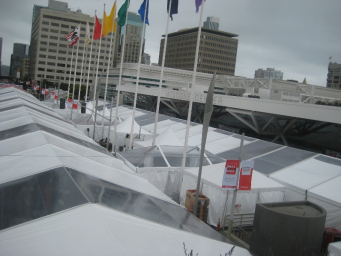 We stuck around for the Sunday keynote (which almost put me to sleep: we were missing 3 hours from the difference in timezones already, and had to get up early to fly in) .. then nibbled on some of the excellent food out in the main tent… before finally making our way back to the hotel. Where we fell asleep as soon as our heads hit the pillows.
Monday the real work started: the main exhibit floors opened to the public at 9:45am, so Pegah and I had to get our laptops, scanner and paperwork sorted out. We talked to tons of people and collected many surveys as entries to our daily draw (gift certificates at ThinkGeek). And met many Sun/Oracle people who we had only previously known as voices on the phone. It was a long day, but we got to have some fun at the end of it: visiting one of Iains friends who took us out on the town in his classic car!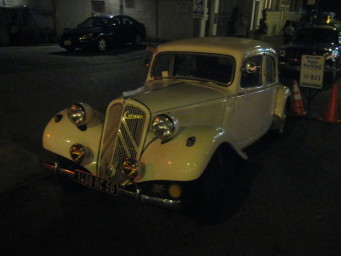 Tuesday and Wednesday were more of the same: talk to many many people… getting great contact info from some of them… and being ignored by the rest – the life of a vendor at a tradeshow 🙂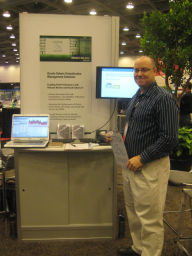 It was a late flight home Wednesday night, not landing back in Toronto until early Thursday morning. A successful event all around for us, with the only regret being that we didn't get to attend the Appreciation Event on Wednesday because we wouldn't have made our plane.
Hopefully we'll go back next year!