…to steal the phrase from the 3WheelerWorld forum. May 1st was the first 2010 meetup of the Southern Ontario Trikers (SOT) at Ganaraska forest… organized by my friend BJ (Xhumeka).
Got over to BJ's early in the morning to help get the trailer sorted. Normally he could take up to 3 bikes…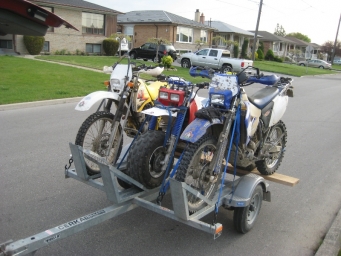 …but fitting an ATC in there too required a bit of out-of-the-box thinking… and a slab of dead tree: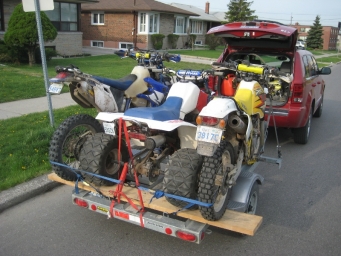 BJ's friend Paul soon arrived and we were on our way. Although Paul rode street, it was his first time on a dirtbike: way to get thrown in the deep end! 🙂
Soon enough we were out at the Ganny, greeted by an assortment of trikes, quads and bikes: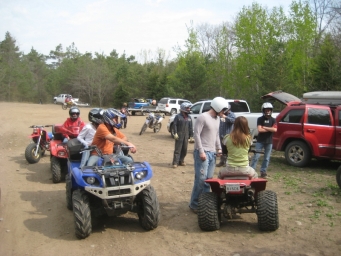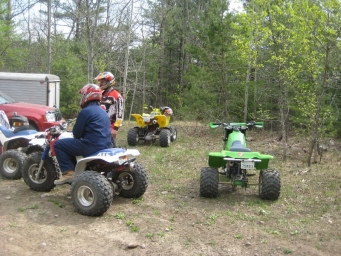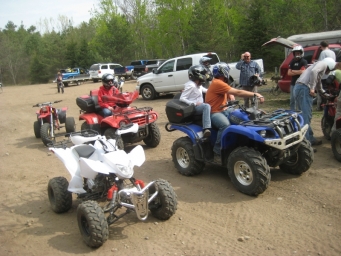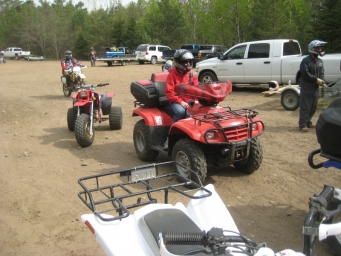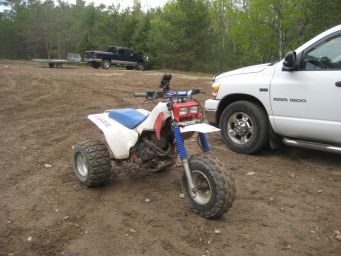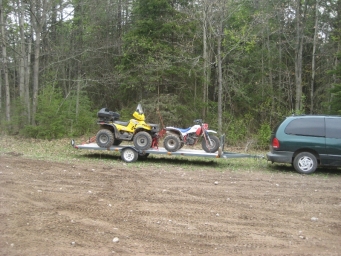 …and here's Paul all ready to go!: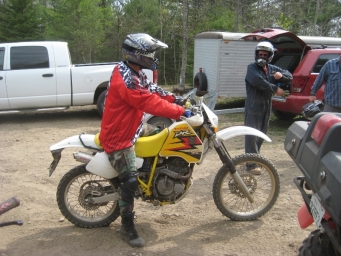 Due to a couple of errors on my part, first taking the "back road" to our first destination… and secondly mishearing BJ's next destination after he found us… I was in "group 2" for the day. 3 quads and 2 bikes meandering the forest and never quite meeting up with the main group until lunch. Which is too bad, because it would have been nice for everyone to make it to the Forest Center and stream at some point… but we still put on some miles… and taught Paul how to kickstart a dirtbike:
Or after it wore it him out… how I could kick it.
And how when I got tired some of the quad guys could kick it 🙂 (thanks to everyone on their quads who kept us dirtbikers moving!) Note to self: never buy anything that doesn't come with working electric start!
We did make it to The Lookout first thing, before we kinda lost track of each other for awhile 🙂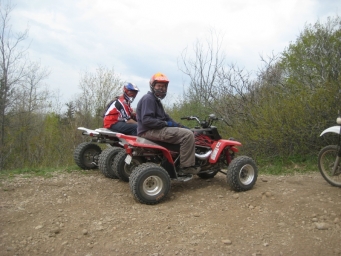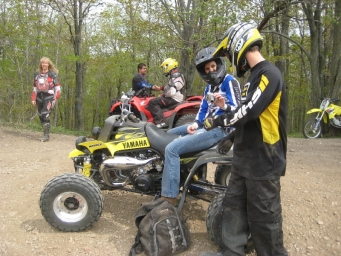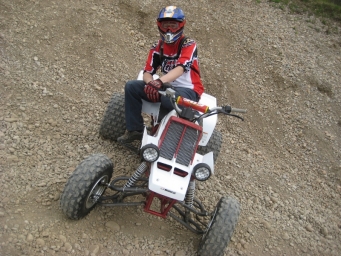 We made it back to the parking lot about 20 minutes ahead of the main team, just before lunch, … and just as it started to rain. Paul was just happy to be off the bike for awhile: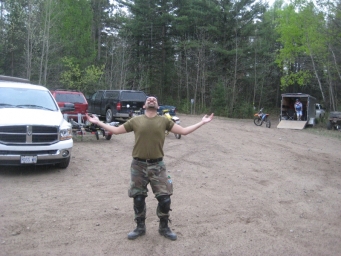 I had only brought a couple snack bars for the day, so I borrowed Pauls backpack and burned down the road to the nearest burger shack (hooray blue plate!), and returned with a bag full of fries and bacon-cheesburgers. And one of the SOT guys had a big box of chocolate-chip cookies for desert: sweet!
The rest of the day went off without a hitch: giving my group a chance to see some of the local hillclimbs that we missed in the morning. Then it was time to pack up. A little bit of excitement as we had a why-is-the-trailer-moving-oh-shit-it's-not-attached! moment…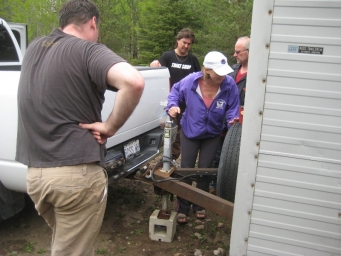 ..but other than that it was just getting the bikes all lined up to fit the trike back on BJ's trailer: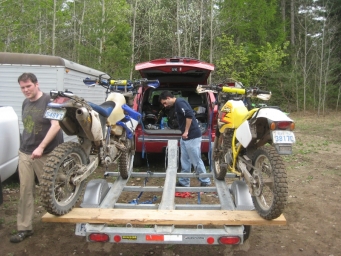 …and a quick stop at Tim Hortons on the way home.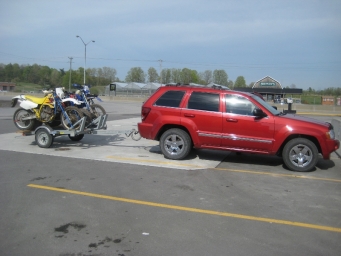 Thanks to everyone who helped make 2010's first SOT meetup a success, and special thanks to BJ for organizing it. Congrats to Paul for sticking with it the entire day… right to the final fall in the parking lot just as we returned from the last run 🙂
Now for the YouTube: several hours of boring helmetcam footage trimmed down to just the interesting bits: