Yesterday I attended my first club ride of the season: the Bethany 2010! Fortunately I did a lot better than last year: in that I didn't spend all day mudwrestling.
I arrived at BJ's place around 7am, and we loaded up the bikes…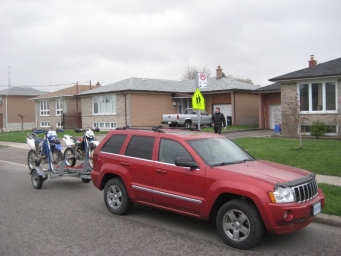 …then it was off for breakfast with the gang at Haugens… and ride the bikes to the launch point. Most of my group is in this shot (except BJ): from left-to-right: Derek, Rob, and Ken. And the bikes from front-to-back: Ken's WR400, BJs TE450, Robs DRZ400SM, my WR450, and Dereks brand-new DRZ400S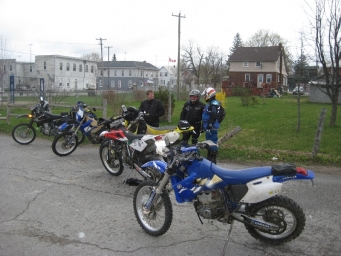 There were many other bikes as well: I didn't get a count… but at least as many (or more) than last year: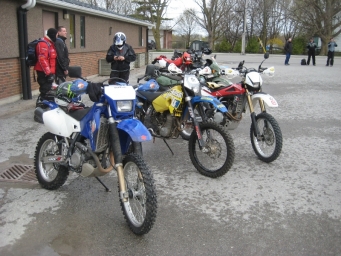 And David Vans bike (the organizer) where we all signed up and slipped him some cash 🙂
no images were found
Then a short safety briefing, and we were off!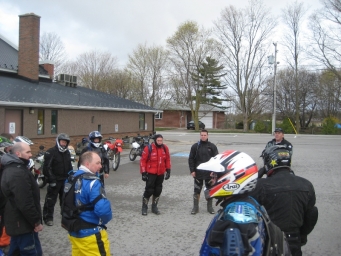 We went out in groups of 3-5 staggered a few minutes apart. Most of my pictures are in the helmetcam coverage (I chopped out all the highway/gravel-road footage to fit into YouTubes 10-minute limit)… but I did get some at the main obsticle of the day. Surprisingly it wasn't a mudhole or water crossing… but trees that had been cut down intentionally to block a road: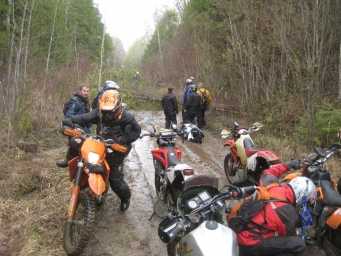 After clearing a way to get the bikes around the trees, the next stop was for a quick break (and gas) at Heaven on Seven: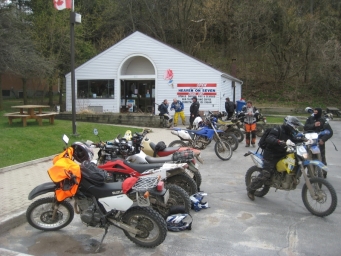 Then a few more roads and trails… and we were back at Haugens around 3pm. Load up the bikes… get a bite to eat… then haul back down the 401 to Toronto.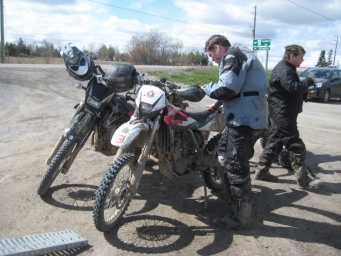 I had a blast this year, I can't wait 'till the next event. Special thanks to David Van for organizing things, Haugens for putting up with our noise and muddy clothes, ODSC preriders and our sweep Daryl (sp?). And of course, my riding team: BJ, Rob, Ken and Derek!
Oh and an extra photo of BJ because he deserves it: not only did I get a ride on his trailer… but he was making the extra effort to see the cops had no reason to pull us over 🙂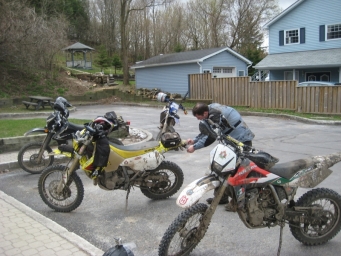 Finally the video!