Back in high school I spent a lot of time and money playing around with RC (Radio Controlled) cars and boats. But then I went away to university… didn't take them with me, and sold them all at a garage sale during a summer break. That was about 15 years ago. Haven't thought about RC since.
Last weekend a couple my sister knew from Sault Ste Marie came to visit: and the husband, Jason Liepins, wanted to go to a local GTA hobby shop to find some parts for his new RC boat. Fair enough.
So we went on a Saturday afternoon, and we had the parts we needed about 60 seconds after walking through the door. But since it was a bit of a drive to get there… may as well look around for a bit, right? What harm could that do?
Well… seeing all the changes RC has gone through in the last 15 years started to gnaw at my mind. I made it out of the shop with credit card intact… but starting browsing…. browsing random RC sites for reviews… then looking at the buy+sell forums… then Craigslist postings… Ebay… Kijiji… and before you knew it I was starting to underbid on some used equipment: not too serious about it… but pricing out what it would take to get started again.
And one of those bids was accepted. Curse you, Jason Liepins… for taking me to that hobby shop. Because I left my apartment at 6pm tonight… and returned 2 hours later with a wallet $275 lighter. But with a prize as well: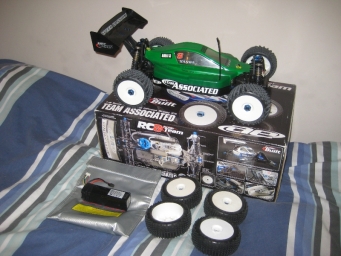 Team Associated RC8 buggy, electric conversion, with extra parts, tires, battery and servo. It has begun. This car actually doesn't have any electronics in it, yet … it's an expensive paperweight. But now I start again… Kijiji… Ebay… Craigslist… forums… trolling for deals to make it move…