Today is my last day in Denver. About 9 hours from now I'll be leaving work and heading to the airport for my flight home. The whole trip I've been looking at tourist magazines for the area showing all the wonderful things you can do in the snow here. One problem: no snow.
I just got out of bed and was greeted with this: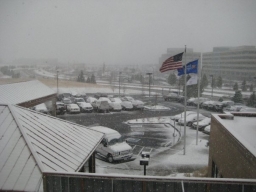 Hooray! It will probably will stop snowing soon, and it may all melt. But that's not the point. Winter has arrived, just in time!