Yes, yes, I did just get back from vacation last week. But I still took last Friday off to head out to Kashaga Lodge with BJ and Wayne… to ride the great trails around Gooderham! I was itching to get out again, after fixing the blowout of the cam cover gasket (puking oil all over itself and my leg)…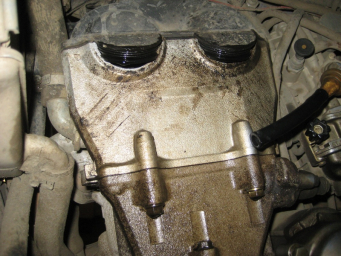 …and putting on the replacement rear rotor…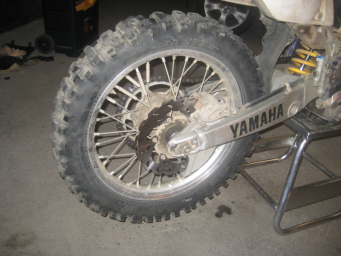 …and switching to a nice new clean NoToil air filter: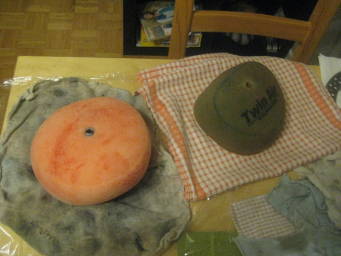 The ride up was long, mostly because of traffic trying to get out of Toronto on a Friday afternoon, but we had BJ's collection of Ricky Gervais podcasts to keep us occupied, and 2 GPS's to steer us in the right direction. Plus an energetic dog: Jasper: to keep us all awake: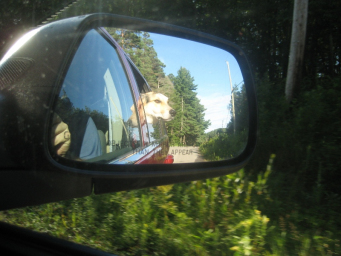 Finally, we arrived!: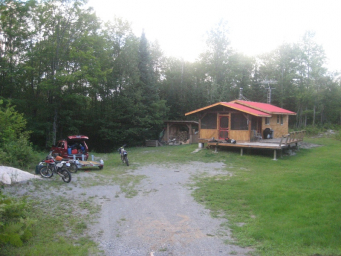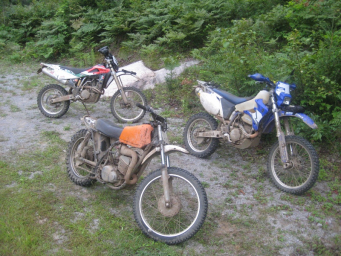 It was a nice little cabin! Propane for the hot water and a couple lights, and a generator to run the water pump, lights, TV, microwave, and anything else we needed to plug in. We didn't use the TV or microwave at all, and the propane lights and oil lamps provided more than enough light in the evenings… meaning we hardly started the generator at all. Toilet was an outhouse out back, but that's no big deal for a few guys. Lots of room: bunk beds in both bedrooms and a fold-out couch, plus a screened in porch, deck, and BBQ!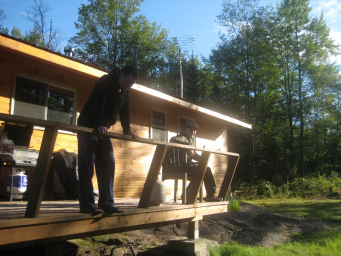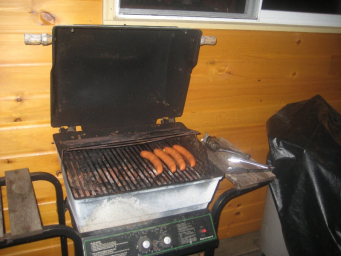 …and lots of wood for a fire if you want one: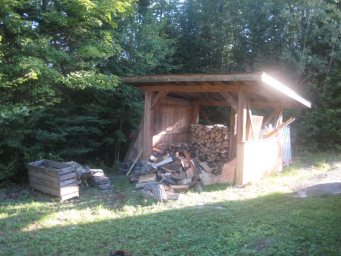 The cabin had a direct connection to the local trails, so we didn't need to take the roads to get to them. Threw our gear inside, and went for a quick exploration ride Friday evening… after putting some air in Waynes back tire 🙂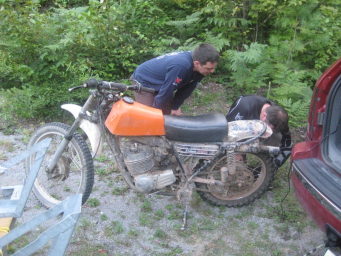 Saturday had us up bright and early: picked up some food at the local general store, and breakfast at the truck stop. Saw a flash of 3 deer crossing the road, but didn't get the camera out soon enough to snap all of them: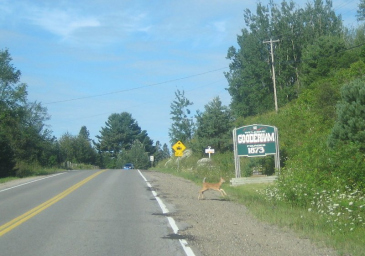 Finally we filled up our tanks and headed out. Here Wayne is about to down a shot of premix (he lost a bet 🙂 ):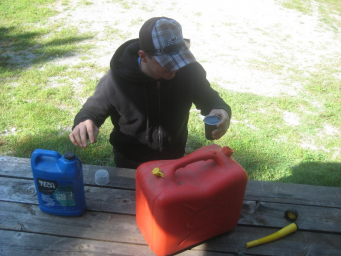 Trails were wide but rocky, and you couldn't go more than 30 seconds without plowing through some sort of puddle. Though "puddles" in Gooderham are perhaps larger than us folk from the GTA are used to (but I only got stuck once, hooray!):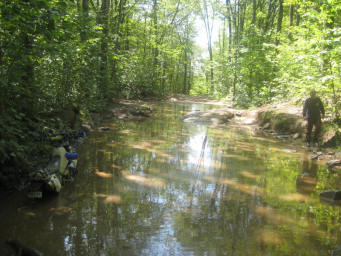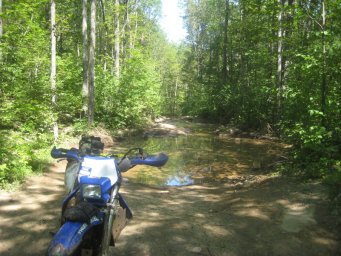 Wayne's bike was built back in 1974 (it's older then I am!) and had less clearance than the rides BJ and I were on… and the rocks took their toll. Mostly on the pegs, shifter, and rear brake. If they were slight bent they were kicked back into place. If they were more bent they we got out the wrenches….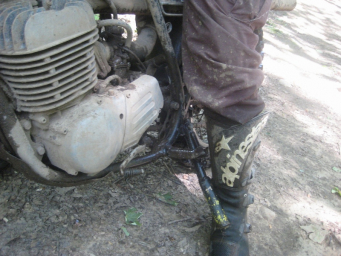 …but if they were really bent, we got out the axe! 🙂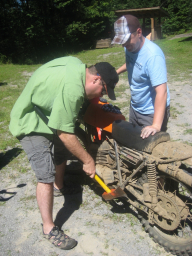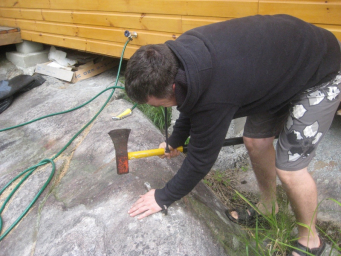 (we actually didn't chop any wood with the axe, it was strictly for percussive maintenance)
Wayne also had a problem with his throttle. And by "problem" I mean "it was an on/off switch" (that seemed to prefer the "on" position). After a couple near-misses with him hurtling down the trail WFO we worked on the throttle: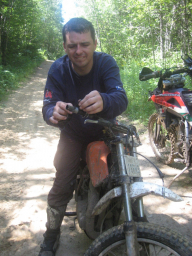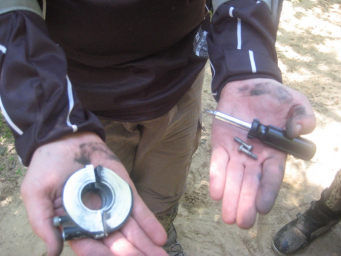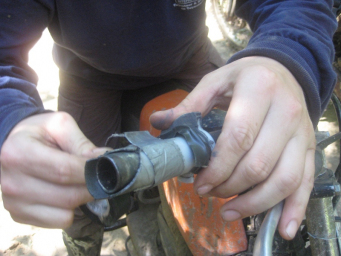 …until it at least looked OK again: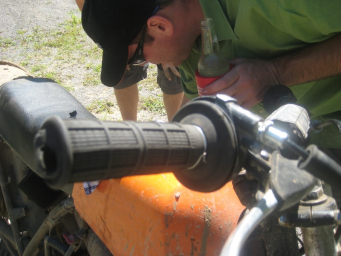 But during the ride after lunch…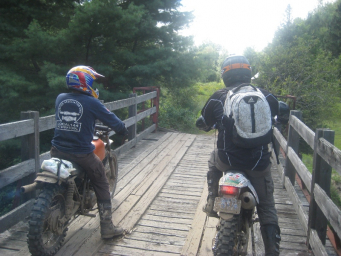 …riding through more water and sand, it finally gave up. We tore it down on the trail and found it infused with mud: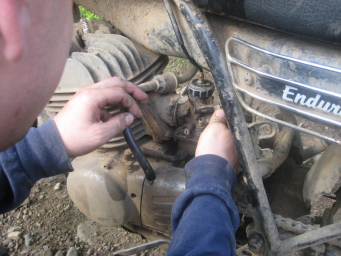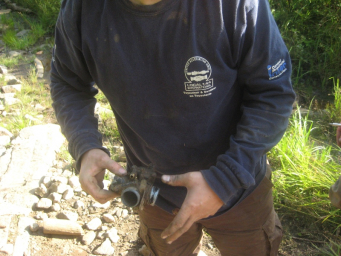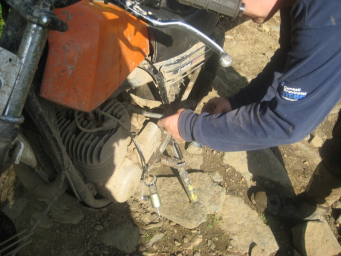 We got it fixed, but if we hadn't had the tools we still would have been OK, as a couple of quads came by while we were playing mechanic (I think we only saw 3 quads all weekend?)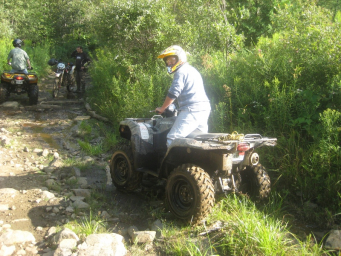 Evenings found us sampling beverages, reviewing our rides from the GPS and helmetcam files, and even watching some Russel Peters on BJs laptop. Oh, and playing with toys you can buy at the gas station for a couple bucks 🙂 . Sunday we packed up early: which worked up well, because after breakfast and a trip to the general store for a clamp to reattach Waynes air filter: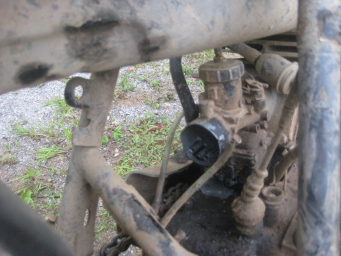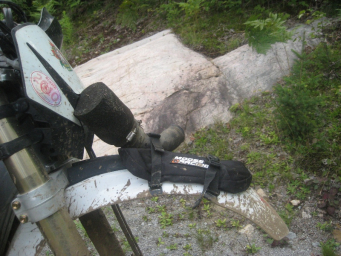 …the heavens opened up and poured for the next couple hours: it was raining all the way back to Toronto. We had time to visit Ken Hoeverman (OFTR President) to say hi, chat about the area, and oogle his tire tree and spare bike collection…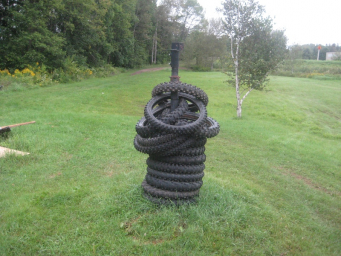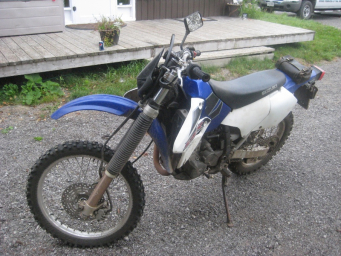 …before making our way home. I had a great time! Cabin was comfortable, BJ and Wayne were excellent, funny riding partners, and there were more trails than we had time to ride.
Special thanks to Ken McPhail and his staff at Kashaga Lodge for making us feel at home, and helping make sure we got settled in!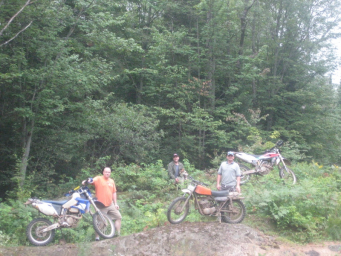 Finally, moving pictures! In colour! With sound!