This year I took my first real vacation in a long time: a 2 week all-inclusive trip to Punta Cana, Dominican Republic, at the Bahia Principe Resort. I went with 2 friends from work: Craig Wyllie and Joe D'Cruz.
Resort
I was used to swimming in the cold lakes around Kenora on my summer vacation: so the resort was a real surprise! Beautiful beach, grounds and pool areas, and other than a couple small showers it was warm and sunny almost the entire time we were there!






A typical day? Wake up and have breakfast, then find some chairs in either the beach or pool areas, stake our claim… then lay out in the sun, drinking rum+coke, or go swimming, or read to pass the time…



(we took _way_ too many books)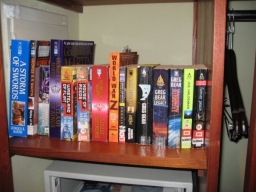 …until it was lunch, when we'd usually eat at one of the restaurants along the beach…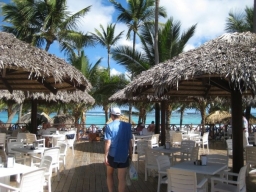 …then some extreme lounging in the afternoons…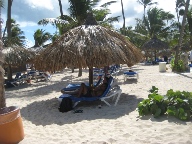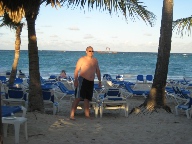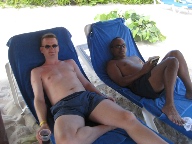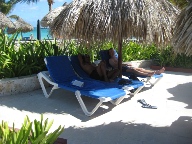 …until it started to get dark: then we'd move back to the main reception area, for more drinking…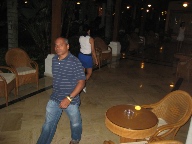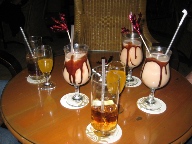 …until it was time for dinner…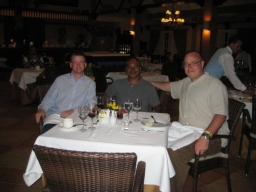 …then a show (see Joe and Craig on stage?)…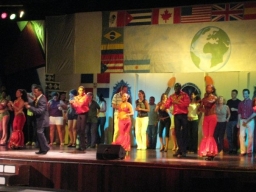 …the on to the Karaoke bar, disco, or bed… depending on what else we did that day or how tired we were. We went on a few excursions and did some on-site stuff: like some mini-golf on a crappy course (where we were almost rained out).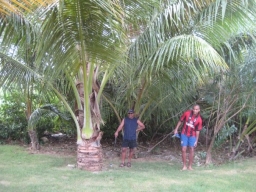 Excursion 1 – Outback Safari
Craig and I took a tour in the back of a large truck to see the local area. Before we even left the parking lot everyone was given their choice of beer, rum+coke or rum+sprite: a great start to the day… just after breakfast 🙂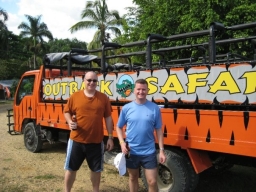 We spend about half the day roaming around the Punta Cana area: visiting small towns and back roads where we saw many local people (lots of kids!) and their houses, and stopped at places that made vanilla, chocolate powder, coconut extracts and other things:



We had a full truck, but everyone got along fine with a couple drinks in them… and the guide was constantly telling jokes and local stories between destinations…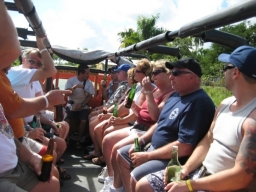 …one of the highlights of the trip was watching the guide hang off the last step of the truck as we were doing highway speeds…. bartending out of cooler… trying to keep at least one arm over the chain you see in front of him in case a pothole threatened to toss him off…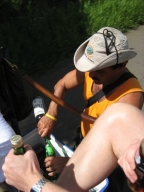 We visited a few places, like a home where we watched the owner process coconuts for their milk. And no trip would be complete without a chance to buy something at every single stop 🙂



Finally, we finished the trip at a local beach where we were given a chance to swim around for awhile, and try some boogie-boarding (which I wasn't very good at, but it was still fun!)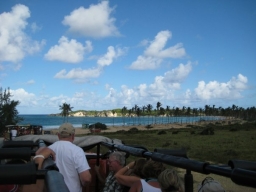 Excursion 2 – Boat Tour
All three of us went on this one. First, a short bus ride down the coast to where we could board. It was a double-decker and it took awhile to get everyone on as they would only let a few people on the dock at a time. Everyone had to wear lifejackets, at least at first. Here's the boat and couple of shots of the beach each way while waiting…



And here we are after getting our snorkeling gear and out on the water:



We stayed close to shore where there were lots of other boats and tourboats (and you could see the other resorts) until we reached our first destination: the floating contained areas where we could see the stingrays and sharks. Unfortunately I don't have any of those underwater photos developed yet:



Between stops they kept us entertained with music, dancing, and other things to keep our interest:



Next was the snorkeling stop: everyone in the water! 🙂



Finally, we made our way back home, with an open bar and more music and dancing. Also, a Ultralight had been buzzing around a few times, and when he came over the boat I managed to get a couple pics: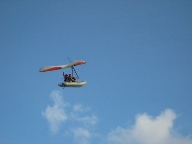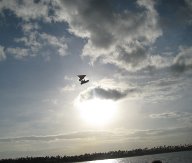 Excursion 3 – Quads
This one I did alone. It took some of the back roads around Punta Cana to visit a ranch, see some scenery, an underground water-filled cave system, and a beach. Give everyone an quick overview of how to ride, put on some useless goofy helmets (seriously: a mountain-bike helmet would have provided more protection)…and we're off!



Then on to a nearby ranch to look at empty green fields, near-dead horses, and our first chance to buy more souvenirs (what a surprise! 🙂 ):



Then put back on the goofy helmet, drive out past the incoming group of dunebuggies (they looked fun!)… down some dirt roads… and finally to something interesting: the cave system!



We had a chance to swim in the water at the entrance to the cave, but nobody went for it (probably because it a bit dark and spooky)… but we did see a diver just entering the series of underwater passages: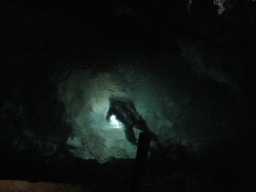 …then down some more back roads… on to the highway (!!)… through some small towns…



…and to the beach Craig and I visited on the truck tour! 🙂



After a short stop where we could swim or wander around… it was back to the parking lot… the a bus back to the resort:



The quad tour wasn't difficult: there wasn't any challenging terrain: but I had great fun driving where I wanted to go… aiming for all the big washed-out puddles in the roads, doing half-donuts in the sand, and basically acting like a dumb tourist 🙂
I also got 99% of a PADI Open Water scuba certification. All I was missing was one last ocean dive (my fourth) and I would have been done. I had completed all pool sessions and written tests, but on the day of the last dive there was a transit strike that prevented many employees of the dive shop from coming to work… so the dive was cancelled. So I have to get one more dive here in Toronto to get certified: Grrrr 🙁
After 2 weeks I was ready to head home, but I really enjoyed the vacation. Others who have been on other all-inclusives have more to compare to (food, accommodations etc)… but I thought our resort was great! Can't wait to try something like this again!