On Saturday I decided to try Sids Raceway (an outdoor track) instead of the carpet I had been running on all winter. Several changes were needed to my Losi 22 to run outside so I didn't make it until Sunday, and even then I didn't have time to convert from mid-motor to rear-motor.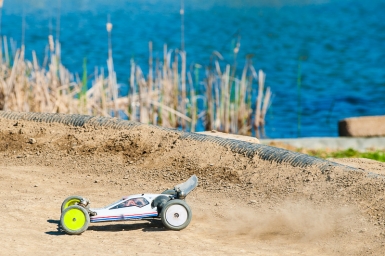 There weren't very many other people there: I never saw more than 5 cars on the track at once, but that did mean there was still room for me under the drivers stand, so I had a place to set up. If you bring an extension cord they had power, a couple of extra tables and chairs, washrooms in the garden center next door, and a convenience store just down the road. I was a nice place to spend a sunny summer afternoon.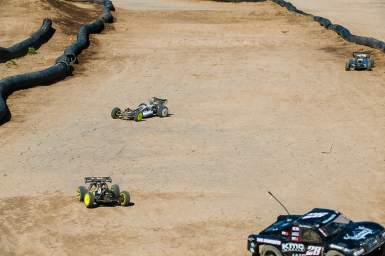 Compared to carpet, driving on the dirt felt like ice, but I wasn't running with the recommended motor placement or tires so I may be more successful next time. My lap times were all over the place with the jumps being manageable with some practice but my cornering speeds were low and I often spun out.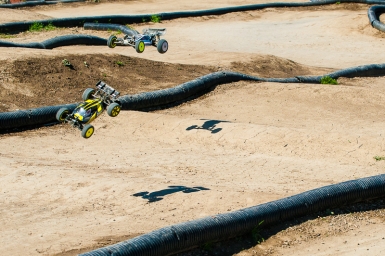 Sids was fun, and I hope I get to visit many more times this summer! Special thanks to Samer Rizk for taking these great photos and telling me when he put them online here – go see the rest of them!
[Edit: Here's a short video clip from my smartphone – sorry I don't know how to edit out wind noise]