Last night just before 2:30am the fire alarm in our apartment building went off. That actually happens every couple of months or so, and normally building management gets on the intercom fairly quickly to say it's a false alarm. Not this time. This time we had people running down our hall banging on doors, and other friends in the building calling to see if we "made it out yet".
So we bundled up, grabbed the dog, and got out of Dodge.
Our 3rd-floor hallway had a haze of smoke, and as soon as we got into the stairwell we were picking our way down stairs covered with water hoses, and scooting around firemen going into the second floor with their masks on. We could see through the glass on the 2nd-floor door that the hall was filled with smoke. Hooray for having a fire station almost at the end of our street… as soon as the alarm goes off they roll… and are normally in the building poking around before half the people have gotten there boots and jackets on.
My sister had to carry her dog Lucy down the stairs… since she wasn't going anywhere near all the commotion on her leash. So right after we got out and around back of the building to take a peek at the fire… we went for a walk to calm the dog down and since it looked like it was going to take awhile. Just as we left we started to see billows of steam go up the side of the building, as they started to hose things down.
By the time we had walked a couple blocks North and looped back, it was all over, and people were heading back in. Though there were still at least 4 firetrucks and hoses all over the place. This is what we saw this morning.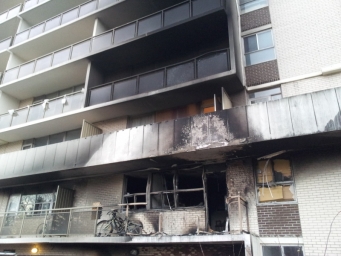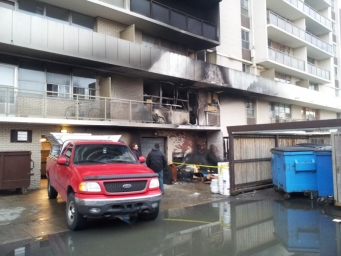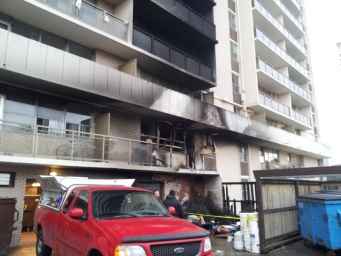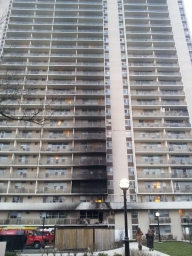 The fire looks to have started in a garbage area out back, then gutted the second floor apartment immediately above it. Maybe by the end of the day we'll have heard more news (and hopefully the Rogers guys will be done: they have 3 trucks out back this morning:cable/TV went out at 2:15am as well). A friend at work said she heard somebody tossed a cigarette off their balcony, which may have lit some garbage below.
Update: Found a CityNews link about the fire. Interesting that they say there was damage to the third+fourth floor apartments… and have a picture of the second-floor unit with the balcony/front/window/door destroyed.
Update #2: My friend on the top floor has pictures of the fire here!