I live in a fairly high-density area: lots of apartment buildings. Looking out my window I can probably see a hundred other apartments facing me from several buildings on other streets. A perfect place for a community WiFi network? Apparently not: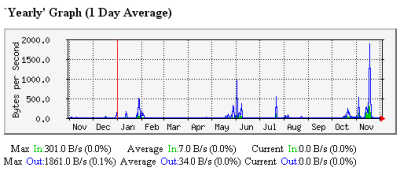 I don't know how you find other WiFi/computer enthusiasts when they're all locked in other buildings with restricted access. With a street full of houses you could at least put some paper in the mailboxes to get the word out.
Maybe I'll buy a couple hundred LED Xmas lights and punch them through a big square of cardboard to spell "802.11g" and put it up in my window for all to see.
Christmas spirit and all that.
Ho ho ho!