This week I had broken my big green RC car (RC8) and was waiting for parts…. but I still had RC on my mind. Friday after work I was scrolling through some local forums and came across a great deal on a Traxxas Stampede VXL 2wd: one of the vehicles that was on my shortlist when I wanted to get back into the hobby. Yes… I already had one car… but it was a bit more for racing and less for "bashing"… and the price was right (the seller had recently sweetened the deal by adding all the electronics, making it Ready-To-Run)… and it was a 30min drive away… and it can never hurt to have an extra vehicle for when you plow the first one into a fence 🙂
So I picked it up Saturday morning: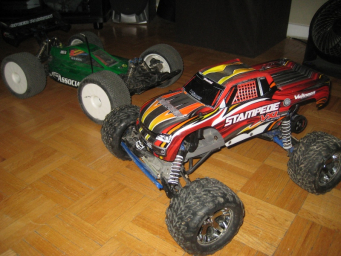 It needed a little love: some new body mounts, front springs, and to put the off-road tires back on (it came on street foam tires). Then, because it was raining, I charged it up and took it down to our underground parking garage. I was looking forward to bombing around on something slower than the RC8… with a bit more clearance to get over curbs, and something I could wheelie without regret! 🙂
Well… I was partially right: it wheelies on demand… had more clearance… and it's fun to drive with all the handling quirks that come along with a 2wd monster truck with a high center-of gravity.
But it's not slower.
In fact… I think it's faster. As in drive-on-the-highway-keeping-up-with-traffic fast!
I'd need a second driver to know for sure (race it against the RC8) but for now I'm going to drive the Stampede in "training mode"… meaning it limits itself electronically to 50% power. It's still plenty fast, and handles more like I was expecting. And I definitely have to put the wheelie bar back on… in sport mode you can be rocketing along at 80% power… and if you floor it it will still power the front off the ground and flip itself on it's back. Crazy!
(but fun! 🙂