The truck body that came on my used Stampede RC truck doesn't owe the world anything, and won't be winning any beauty contests. Which is why I started to look at it… then at my ContourHD helmetcam… then at an Exacto knife. A plan was formed!
I cut a hole in the windshield and crazyglued the extra plastic to the roof to make it a bit stronger. Then punched 4 narrow slots in the lid and threaded some velco through. TaDa!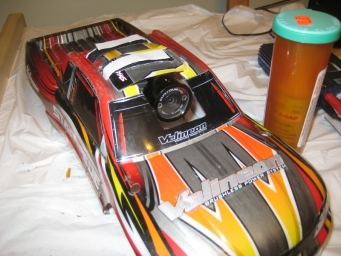 It was just starting to spit rain out and it was getting dark, but I just had to test it right away:
Body rattled a lot, and the helmetcam battery kept dying, but you get the idea. Perhaps next time with the body held on tighter… and when it's sunny out… some creative editing may capture some good clips that aren't vibrating so much you get a headache watching it. I want to get 2 RC cars together and film one chasing the other!