Today puts me half way through my 3-week stay in Regina: if the Air Canada strike doesn't change my plans I'll be back in Toronto the last week of June. I wasn't able to stay in the same hotel the whole time, since the entire city seems booked for one event:
The Western Canada Farm Progress Show
For 4 days I had to move into alternate lodging: a place that rented "suites" for longer term stays. Compared to checking into a Comfort Inn the sign-in process was a bit dodgy: get to a gas station in a certain part of town, call a guy, and wait for him to show up to lead you where you'll be staying.
So I made the call, and followed the black SUV that came to meet me. When we first turned off a residential road onto an unpaved back lane, and stopped behind an older 3-story house… I was a tiny bit apprehensive. My room as at the top of those peeling wooden stairs, behind that tree branch? OK…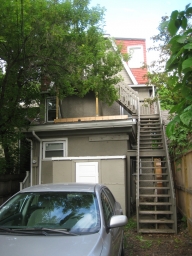 It turns out it was really nice inside: basically my own apartment with laundry and everything: with nicer furniture that I have back in Toronto.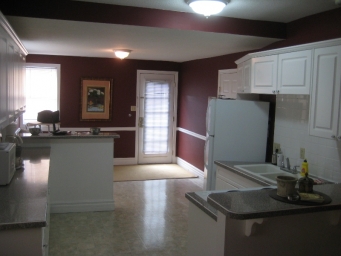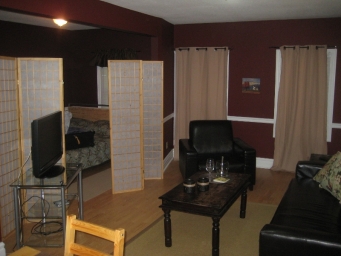 So here I sit with my laptop, nibbling on Subway and sipping on a drink after a long day at work. In 2 more days I have to move back to my old hotel… and I think I'll miss this place 🙂