[Recovered: Original post date May 13th 2012]
Wow, that was fast! Yesterday I attended the second 2012 Amazing RC Store racing and customer appreciation event: it felt like I was just there doing donuts in the parking lot with my toys a couple of days ago! 🙂
This time I spent so much time talking with others I didn't get any good video, so all I have is a few photos. The weather was perfect this time: over 20 degrees and just slightly overcast – much much warmer than at the last event. The DJ was already set up when I arrived, and they were putting together a mini almost-oval track this time: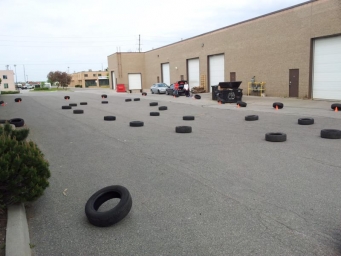 There were more nitro than electric this time too: especially the Caldera/Volcano monster trucks: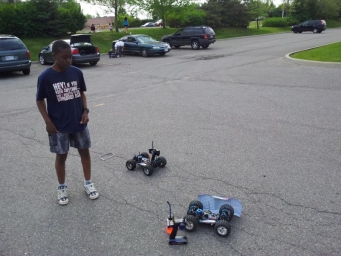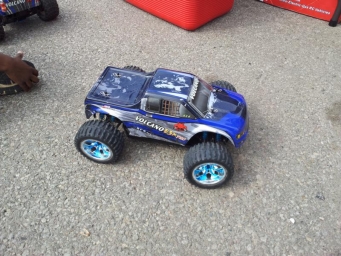 This blue one is the monster truck version of my Caldera SC 10E: well it's 99% of that version: minus a couple inches of the rear of the body 🙂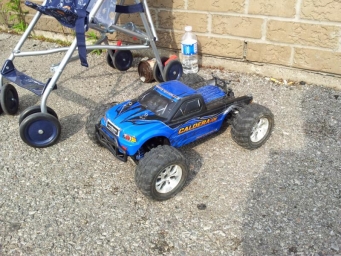 I forgot to take a good picture of my cars. In the bottom left you can see the back of my Caldera (yellow buggy with a racing stripe), and to the right (orange flames + blue) is my Associated RC8Te truggy that I was driving around for fun: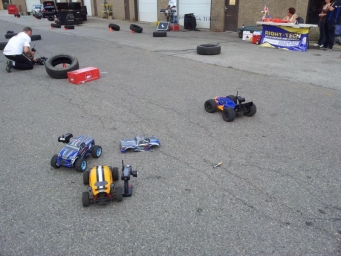 There were some very interesting races: here's a brand-new 30cc gas 4wd buggy on the left vs. a 1/8th nitro buggy on the right. The 30cc put up a good fight: getting an early lead and it was so big it looked hard to pass – but the 1/8th got it in the end 🙂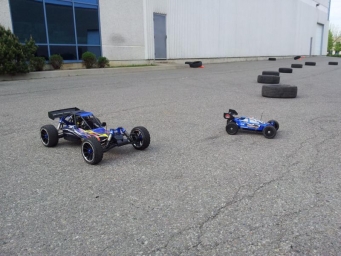 Here's a pair of 1/10th nitro MT's ready to go at it: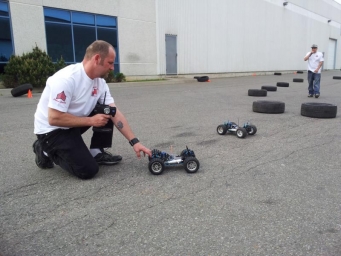 And here's a pair of similar 1/10th electrics. This was a fun race because it's two similar Redcats, both the same scale and both brushless, but Redcat OEMs them from two different manufacturers. So they're both carrying the Redcat logos but it's still a "battle of the brands"!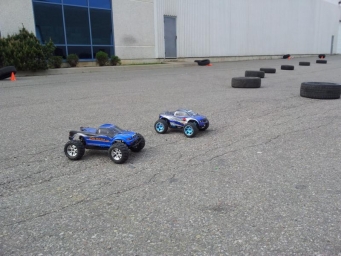 The racing was all for fun, with smiles all around no matter who won or lost: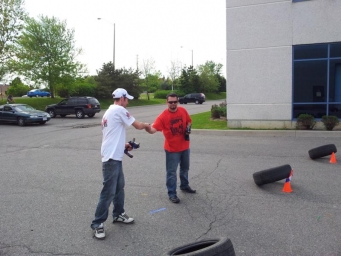 In the end I got lucky: I won a AmazingRCStore Tshirt in my first race, and managed to win the Grand Prize: a new nitro buggy! It was a great looking car, but since I drive so much in the long grass of the local parks, and because I don't have any of the extra nitro bits you need… ARCS was willing to let me pay the difference to upgrade to a larger brushless model, perfect! I'll be posting pictures of it soon.
I had a great time and met even more new people that in the last event: can't wait until the next one. Thanks to Amazing RC Store for putting on a great show!