…or in your toys 🙂
Soon after buying my Caldera SC 10E I swapped out the stock shocks with a set of Traxxas Ultra XXL's… since I didn't have extra springs for the stock Redcat shocks (and they seemed to stick a bit)… and because I had the Ultras on the shelf with lots of springs left over from running my Stampede.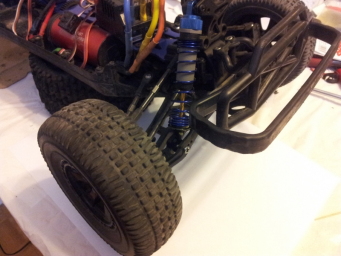 The Ultras XXL's are a bit longer but fit fine: the extra length just gaves you some extra droop – swapping in XL shafts probably would have made them the same length as stock. (Note: If you put Traxxas Ultras on your Caldera, buy an Integy MSR9 spring set as a cheap way to get a good initial collection of springs – I ended up using a pair of the front springs: blue/4.7's and red/5.8's. Or buy Traxxas or Losi springs)
I wanted to recycle the Traxxas shocks on another project, so I started to read more about the stock Redcat's. Someone on a forum said they were similar to Traxxas E-Revo/Jato "GTR" shocks, and the overall size of the springs seemed close enough, so I ordered some GTR springs. I had also smashed a stock lower spring retainer… and the only Redcat option seemed to be to buy a new set of shocks, so I ordered some GTR retainers as well. Part #TRA5465: I only needed the bottom pieces but I was hoping the ride-height ring or shock cap may fit as well: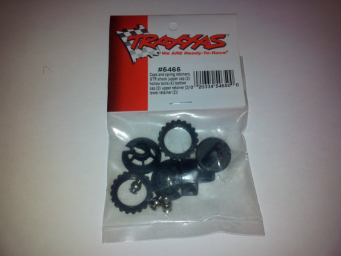 The GTR springs fit perfectly on the stock Caldera shocks, and the bottom retainer does as well (but the ride-height ring had a finer thread and didn't fit, and I didn't try the shock caps). On the left is the stock shock w/retainer and the stock white spring, and on the right is a Traxxas GTR spring and GTR bottom retainer on the Redcat shock body. GTR springs are a few mm shorter than stock Redcat, but that difference is easily accounted for by twisting the ride height ring a bit further down.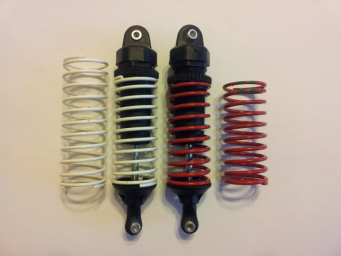 The retainers are effectively identical: it was hard to get a good picture but the Caldera is on the left and the Traxxas is on the right. They use the same cut-out design and the only way I could tell them apart was that the Traxxas one had much sharper and distinct molding (more defined corners) while the Redcat corners were more rounded.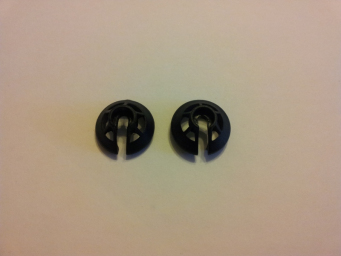 So what does this mean? Traxxas GTR aluminum shocks are almost certainly a drop-in replacement for the Caldera shocks (though I haven't tested this: the springs are a tiny bit shorter). At a minimum GTR springs can be used and are very easy to find, since every hobby shop stocks Traxxas. And GTR lower spring retainers can be used instead of buying all new shocks if you smash your Redcat ones!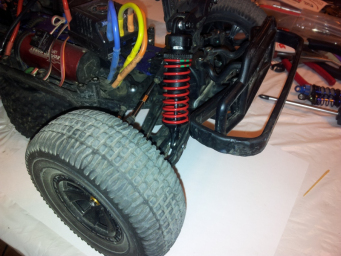 Traxxas GTR springs are sold with a totally different number rating than you may expect, at least compared to Integy ratings if you had Ultra shocks. Since I was using 4.7/5.8 springs on the Ultras I bought similar ratings for the GTR springs… but they were way way too stiff! I ended up using 1.8-front and 1.6 rear… and those are still slightly firmer than the stock springs. Here's some GTR Traxxas part numbers I dug up: ((w) is a white spring, (r) is a red spring):
TRA5427 0.7 Yellow (w)
TRA5428 0.9 Orange (w)
TRA5429 1.0 Tan (w)
TRA5430 1.1 Green (w)
TRA5431 1.2 Silver (w)
TRA5432 1.3 Gold (w)
TRA5433 1.4 Pink (w)
TRA5434 1.6 Blue (w)
TRA5434a 1.6 Double Blue (r)
TRA5940 1.8 Double Green (r)
TRA5941 2.0 Double Black (r)
TRA5942 2.3 Double Purple (r)
TRA5435 2.6 Yellow (r)
TRA5436 2.9 White (r)
TRA5437 3.2 Orange (r)
TRA5438 3.5 Green (r)
TRA5439 3.8 Gold (r)
TRA5440 4.1 Tan (r)
TRA5441 4.4 Black (r)
TRA5442 4.9 Silver (r)
TRA5443 5.4 Pink (r)
TRA5444 5.9 Blue (r)
TRA5445 6.4 Purple (r)
Final Note: A small bit of maintenance on your stock shocks can make them significantly less sticky. With mine, even with the oil drained and the springs off, I found the shafts had a lot of stiction making the shafts hard to slide in and out. The problem was two-fold: first the bottom outside oring cap was screwed on much too tight (all the way down) which was squashing the orings and making them bind to the shock shaft much too tightly: unscrewing that cap by about 1mm immediately made the piston movement much easier, and the shocks still didn't leak. Second: the two orings had been squashed in there so hard the outside one was running completely dry – a little bit of AE or Losi shock lube (I used this) coating the orings before I put them back in made the shocks even smoother. Still not as nice as Traxxas/Losi/AE shocks with TiNi shafts, but much better than out-of-the-box!