Last winter I enjoyed running my RC cars at Universal Raceways: it wasn't too far of a drive, the track was indoors, and they had an on-site hobby shop.
But they went out of business.
Around the same time they closed their doors, Sids Raceway opened for the season. It had a much larger dirt track, was about as far away as Universal… and there were 2 Hobby Shops within a 10 minute drive if you broke anything.
But then it started to get cold: and Sids is outdoors.
So, where to go this winter? There were some indoor offroad/carpet tracks about an hour from my apartment… but I had run on carpet for 2 winters now. Last November I had read that a track in Brantford was moving to a new location that was indoor and had a clay surface: Apex RC. Sign me up!
This is what you see when you come in: a few stands with kits/tires/snacks, a wall of parts and paints, hotdog and pizza machines, some tables to kick back and relax, and bottomless cups of coffee for $2!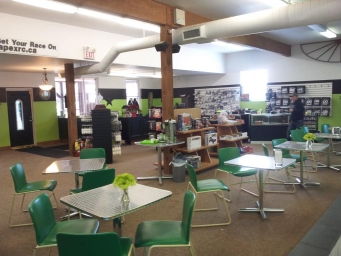 To the right is a large open pit area: every 8′ table has room for 2 people, and each person gets 2 power plugs. It's well lit and there were extra chairs for those who brought friends and kids. The air felt a tiny bit damp, but that's because the tracks clay surface gets watered a few times a day so it's always a bit humid.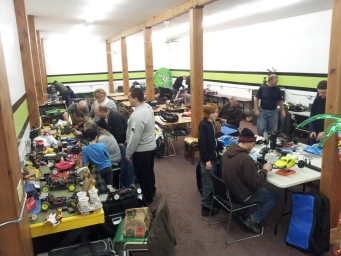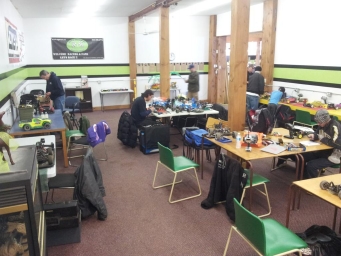 Here's my little corner of the world: my beat-up Tekno SCT410 truck for bull-in-a-china-shop driving, and my Losi 22 1.0 buggy for something a little more refined: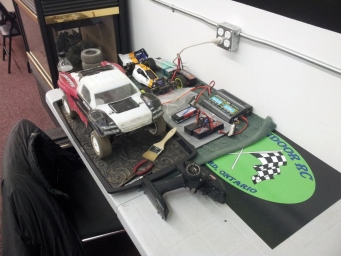 And finally the track itself: with a nice long straight up close to the drivers stand and a banked corner at the end to help keep you off of the wall, some small ripples in the infield to keep your suspension unsettled, and a double-single tabletop combo along the back wall with a very short runup to let you air things out. My 4WD Short Course Truck had no problems launching itself over those jumps… but I struggled with my 2WD buggy to get up enough speed without spinning out. I crashed many times along that back wall 🙂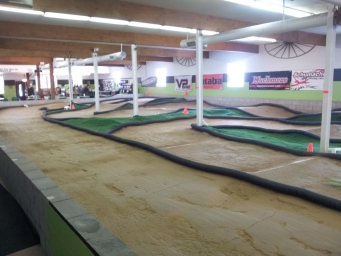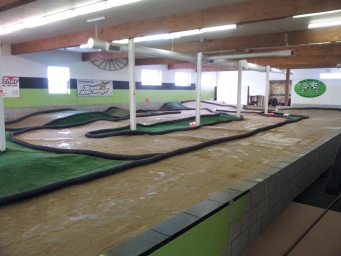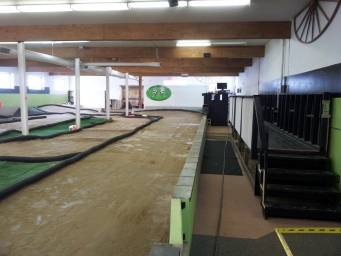 The first time you show up you sign a standard waiver and give them your MYLAPS transponder number (if you have one). The owner and staff were very friendly, and they did a great job keeping the track in shape with periodic watering… and switching to timed practice (buggies, and SCT/ST) when things got crowded. I'm hoping they add a bit more parts support, but I understand they're not trying to be a full Hobby Shop (they have a great selection of tires though!)
This past Saturday was my second trip there, and I hope to go again a few more times this winter. The only thing that would keep me away would be the distance: it's a solid 90 minute drive for me each way from Toronto, and that's more time than I like to spend on Canadian highways in January.