One of the most common "off-brand" RC monster trucks is the HSP Brontosaurus (aka Redcat Volcano EPX Pro, aka Exceed Infinitive). It comes brushed or brushless in a rainbow of colours, and has been rebranded by a dozen different companies. Is it a race machine? No. Is it cheap enough you don't care if you break it? Yes! 🙂
I saw a great used deal online and couldn't say no: it came ready-to-run with a space parts chassis: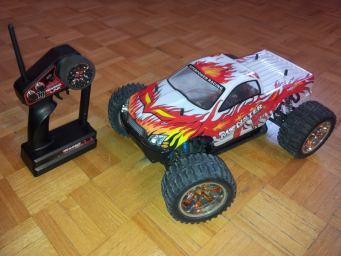 It actually came with so many extras I sold some to offset the cost, but first I took it out to bash in the local park: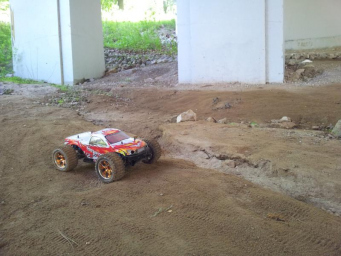 This model of truck has a known problem with the rear suspension: the stock dogbones are a bit too long and prevent the chassis from making it all the way to the ground.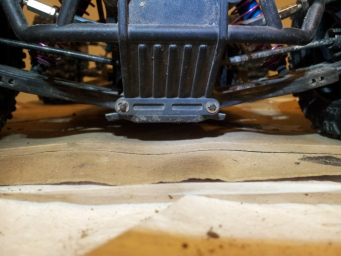 The fix is simple enough: use shorter dogbones… but after reading a number of forum posts I couldn't figure out what part numbers were a bit shorter and which were the same length. Since they were only a few dollars each shipped on Ebay… I just bought a bunch of them 🙂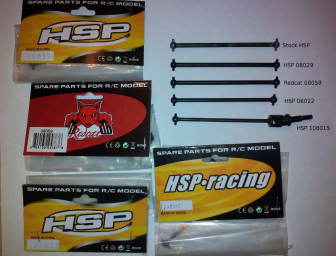 If you have a Brontosaurus/Volcano/Infinitive you want HSP part number 06022. My stock dogbones, HSP 08029 and Redcat 08059 were all exactly the same length: too long. I tried the HSP 108015 universal but it was also too long, even to long to be put in the front of the truck. With those slightly shorter 06022's swapped in the rear of the chassis could make it all the way down to the ground: success!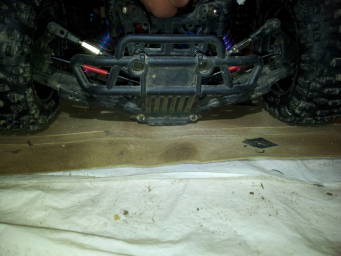 The stock tires were pretty horrible so I sold them, and swapped in the ProLine Badlands I was running on my old Redcat Caldera. Time to go back to the park!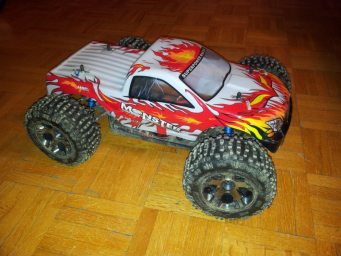 Speaking of the Caldera, I've seen some people asking about it, especially since the brushless Redcat Caldera (BSD rebrand) and Redcat Volcano (HSP rebrand) aren't too far apart in price. I've owned both (the Caldera much longer) so these are my thoughts so far:
Redcat Caldera
Tougher build and thicker plastic parts (some the same as the 1/8th and 1/6th models)
Comes with a less powerful 370 (finned 540) motor, and ESC
Stock shocks have some binding out-of-the-box, but are perfectly servicable (and can take Revo/Jato springs)
Crappy tires
Limited aftermarket. There seem to be fewer BSD rebrands so Ebay isn't as full of cheap aluminum hopups and doodads (and those that are there are more expensive)
Parts won't be in your local hobby shop, but there are lots of Redcat dealers
Thick axles and large bearings all around: easy to switch to OEM 17mm hubs if you want
Universals all around, but they're soft: the front CVAs will bend all the time after even minor impacts
Stock front plastic hubs aren't mounted well: the bottom screw pivot will always fall out. But metal hubs are a cheap upgrade and threadlock solves the pivot issue.
Goofy battery tray: the batteries mount sideways so you're limited on how large a pack will fit, and the wires can only come out of the pack in certain directions
The stock differentials are a bit soft if you upgrade the motor, but the hardened 1/8th-1/6th models drop right in (and appear bulletproof: I'm feeding them 6S in my Shredder)
Body mounts aren't great: they look weak and the posts are close together, but I've never broken them
Redcat Volcano
Suspension components look frail compared to the Caldera, but I haven't snapped any A-arms yet
More powerful motor stock, I think it's a bit faster out-of-the-box
Shocks are horrible. The pistons are loose and have huge slots in them: I put in 100-weight oil and it's still too thin
Crappy tires
Lots of HSP uplifts bits on Ebay
Parts won't be in your local hobby shop, but there are lots of Redcat dealers (plus very cheap parts on Ebay! Did I mention Ebay?)
Short thin axles and smaller bearings: my Traxxas rims are almost too thick in the middle to mount (not enough thread left sticking out of the axle to get a locknut on all the way
Dogbones seem to get a slight bend to them easily… but continue to run (at least the fronts). I need to run into more things to tell if the front setup is tougher than the Caldera. Wish it came with universals
Regular battery tray: no problem fitting standard 2s hard/soft lipos
Diff strength is currently unknown. I bought this truck used and I haven't opened things up to poke around. I'm also using the stock motor
It seems to get sand caught in the spur much easier than the Caldera
The plastics feel overall more flexible than on the Caldera
Body mounts and posts are more substantial and mounted firmly to the shock towers
Both trucks are based on a core onroad platform with NiCAD/NiMH cell cutouts on the bottom – those slots are basically a cheese grater against the dirt if the chassis ever slaps, so sand and dirt will get everywhere. Overall both are good bang-for-your-buck entry-level trucks and it's hard to pick between them. If I were forced to buy one or the other today … I think… I would choose the Volcano/Brontosaurus. Why? Three main reasons:
The constant bending of front CVAs on the Caldera was ultimately why I sold it. Perhaps the Brontosaurus has a similar fatal flaw but I haven't driven it enough to find it yet
The Caldera sideways-battery-mounting setup was annoying. Many vanilla hardcase lipos wouldn't fit as the wires didn't come out in a place that would fit
Based on the limited number of parts I've had to order so far…. HSP/Volcano parts are much more plentiful (and cheaper) online and on Ebay than BSD/Caldera parts
That's it for now: I've been feeling sick all afternoon and it's time for bed. I had these photos queued up for so long I just wanted to get them posted….