[Recovered: Original post date August 5th 2012]
If you sell things on Ebay, you're going to end up with PayPal cash burning a hole in your pocket. And they you'll be tempted to buy stuff back off of Ebay. And I've been selling things on Ebay…
… which is how I ended up winning a bid on a Himoto MegaE XB10 4wd buggy roller. It was in rough shape and I wasn't really looking for a 4wd buggy… so I lowballed $20. And won. 🙂
Here it is, all beat up.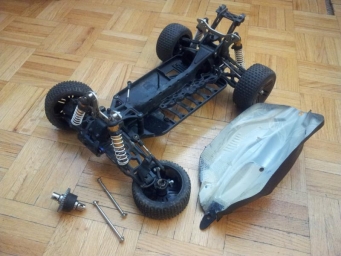 It looks like the previous owner stripped the front drive gear at some point, and instead of repairing it they pulled the center driveshaft, front diff and front dogbones and ran it 2wd (and didn't cover the holes in the front gearcase, it was full of dirt 🙁 . The front of the body was snapped off and replaced with a chunk of plastic, then painted on the outside flat-black. And a number of other parts were missing. It looks like it was run in 2wd mode until it was finally crashed and the front hub and carrier broke… then it was put up for sale.
With the generous help of Eddie @ HimotoRacingUSA.com I was mailed the parts I needed, and now have this!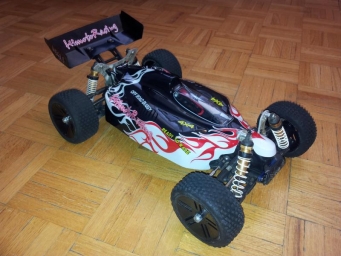 I had all the electrics already on the shelf: a FlySky GT3R receiver and Turnigy Nano-Tech 5300mah 2s lipo: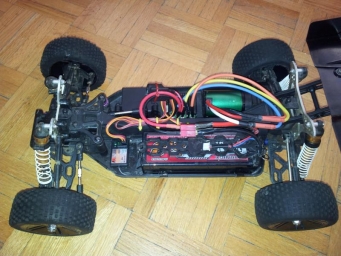 …and an EXI D227F servo, BrushlessHobbies 120a ESC, and an old Castle 4600kv sensorless motor: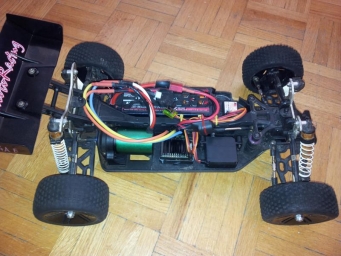 I'm still waiting on a couple more small pieces to finish it off, and I may eventually put on ST/SC/MT tires for more clearance, but other than that it's done. Time to drive and enjoy…